Over the weekend, I taught a first time home buyer seminar.  I love helping first time homebuyers get into their first home because it means so much not only emotionally but also financially. It is the start of a secure financial future that can help you all the way through your retirement.  Now is a particularly good time to purchase a home as interest rates are at multi year lows, inventory is better than it has been in a while, prices are still increasing but at a less rapid rate and there are plenty of low downpayment programs and down payment assistance options.
I want to focus today's blog though on exactly how and why you are creating wealth as a first time home buyer and is an important building block of your portfolio and financial future.
The example that I used in the seminar is pictured on this white board photo and I will bullet point it out so it makes sense.
Case #1 – Rent
First assumption is that a person rents an apartment for $1000 a month.
The $1000 goes to the landlord.
The benefit received by the renter is a place to live.  The renter is not paying off a larger debt to eventually own the home outright. ( Unless this a very rare lease to own situation)
There are no tax benefits associated with paying rent.
Case #2 – Purchase home with financing , usually from a financial institution.
This person has purchased a home with lender financing and pays $1000 a month to the lender.
What happens to that money is the interesting part
Part of it (I am using $500 a month in my example below) goes to the bank as interest to pay the bank for using their money.  But the other part of the $1000 payment goes to pay principal on your loan.  Principal is the part of the purchase price that you borrowed to purchase that house. Every principal payment increases your ownership in the house as you owe the bank less with each payment you make.
In my example, $500 a month goes to principal which turns into $6000 a year.  In the space of one year, you have will have reduced your debt by $6000 and that continues for as long as you have that loan.
So that's a bit of wealth creation right there as you own more and more of a valuable asset.  The money that you pay off is considered your equity in your home.
But that's not all…you will also be able to take advantage of an appreciating real estate market.
I know we all like to complain about rising home prices but did you think that the flip side is that if you actually own a home with the help of a lender, the rising home prices increase the value of your home too!  And guess what, the bank doesn't get any of that, its all yours!
You may not touch that equity and wealth for many years but you may want to consider what it can do for you.
Some examples :
The equity that you earn simply by paying your mortgage and letting your home appreciate may provide a large down payment for your next home, say if you needed another for a growing family.
It can help pay for a second home or an investment property
The equity from the first home may help pay for kids schooling
It can serve as nice retirement nest egg
To recap the benefits that one gains from paying a mortgage over rent:
The interest portion of your payment is tax deductible
The principal portion of your payment pays off debt (good for the credit score), increases your ownership in that house and creates wealth as your equity builds
The value appreciation which increases your equity in that home belongs only to you, not the bank.
You have a solid financial wealth tool that can be used later for when you need it.
That first home with very little down can be a springboard to financial security down the road.  Purchasing a home is really one of the best leveraged investments you can make.  Now is a great time to take advantage of this just because of the all of the positive market conditions and available money at low rates.
Please reach out and let's talk more about more about creating wealth as a first time home buyer!
Check out my website and blog http://movemetomontana.com
For more on mortgage rates, check here  http://www.mortgagenewsdaily.com/reports/newsletter
Today I am looking at pricing and real estate market trends in Big Sky Montana.  This should serve to round out one's perspective on real estate in southwest Montana – check my blogs on November 15 and 25th for more information on Belgrade and Bozeman. The four graphs below represent single family homes, condos and townhomes in 4 different price categories.  In the first graph, we see sold prices of homes below $295K.  You might think this looks like good news for buyers but if you factor in actually how many homes have actually sold and are on the market, you see that there are 2 single family homes listed and 9 condos.
In the next category seen below, we have homes from 295K to 512K.  In this category, pricing looks pretty flat in 2019.  But factor in that there are no single family homes and only 20 condos on the market currently.
In the next category seen below, we have home from 512K – 1.1M.  Things get a little interesting here as we see median prices for single family at 947K and condos at 752K.  Townhomes and Single family homes especially reflect pretty large increases this year which is, of course, a function of little supply and big demand.  As we sit today, there are 3 single family homes on the market right now and no townhomes but there are 24 condos in this price category available.
In the last category, we see everything over 1.1M.  And we see increasing prices this year in the single family and condo categories.  There are currently 56 single family homes on the market and 58 condos.  Clearly, this is where the developers and builders are concentrating and where they perceive the demand to be.
The Big Sky market is different than our other SW Montana housing markets as it is primarily made up of second homes.  The second homes are owned by mostly outsiders or non Montanans.  Their money has come from the booming economy and record stock market that we have seen in the past few years.  I think that as long as that continues, all will be good in Big Sky as it is a beautiful place with many amenities.  However, all economics are cyclical and at some point, we will have some kind of slow down in the US and world economy.  At that point we will see this Big Sky market slow as well and like most second home markets, it will probably take a bigger hit than primary home markets and take longer to recover.   All home buyers need to weigh the risk against their financial situation to evaluate whether a second home purchase in a place like Big Sky is a good decision.
These numbers reflect sold pricing.  Remember that Montana is a non disclosure state so only licensed real estate professionals can access accurate data.  If you would like to dive deeper into market trends, please reach out and let's have a conversation!  I hope you found this helpful – please pass it on!!
While some people look forward to sleeping in on Sunday and then rolling out to a cushy brunch and imbibing bloody marys, mimosas, and tons of carbs, my family takes a more measured approach to Brunch.  Being self employed, it is hard to ever be completely "off", but Sunday is a day for us where we usually get in our toughest workout of the week first, then go eat before moving onto the plan for the day or some work.  I know, we are so boring…
So we like the brunch drinks but we also need some decent protein to go along with those yummy carbs.  Following is my family's list of favorite brunch spots that meets our criteria…
Tanglewood. https://www.tanglewoodmt.com/  We love this place.  It hasn't really caught on yet as a brunch spot but it will.  We think there is a little something for everyone here – satisfies the traditional brunch person as well as someone looking for something a bit more savory and they even have a healthy option or two. There are fun drinks here if you want to fancy up a mimosa and the bloody mary comes with lots of yummy accoutrements. The atmosphere is inviting and lively but not loud which is lovely.  Our favorite dishes are the Salmon salad ( incredible, always perfectly cooked and a bargain for the price), the Liege waffle, and the duck sausage.
Jam. https://jamonmain.com/  Well Jam is the other end of the spectrum in terms of crowds.  Everyone knows about Jam and that includes people who are just passing through.  So unless you are there before 9 am on Saturday or Sunday, expect a wait.  The good news is that the Jam crew is really good and efficient at what they do so the tables will turn over and you will be seated in the time they tell you.  They provide coffee at the host stand so you can take a cuppa and go stroll Main street while you wait.  Jam only serves the breakfast menu on weekends but there are enough protein oriented and savory dishes to satisfy us.  Our favorite menu items here are the Mia Benedict, the Puerco Verde Crepes, Vegetable omelet and a personal favorite, the gluten free banana pancake.  Also have to give kudos to the daily specials and the bacon!  Fun list of drinks here – my personal favorite being the Pink drink but they also offer kombuchas and a nice selection of Townshends teas.
Barley and Vine. http://barleyvinemt.com  Barley and Vine is a cozy brunch spot – more appropriate for small groups than a large one.  Food here is always good and we tend to go here if we are more in the lunch mood than the breakfast mood.  We LOVE their burger, I think the best in Bozeman, complete with a homemade English muffin and served with real frites (skinny , crispy fries).  There are breakfast type items here including fresh made doughnut holes, omelets and a great chicken and waffle dish.  Beverages here include a great wines by the glass offering as well as mimosas and beers.
We love to try new places and we are somewhat critical as I was in the restaurant business for 20 years and our daughter is in the restaurant business with hopes of opening her own place here in Bozeman.  Our opinions are our own but we'd love to know what you think!  Reply back with your favorite brunch places and we will check them out.
I want to start this blog by saying that not everyone has the flexibility to time a move or a real estate transaction.  Sometimes, you just have to move and buy or sell your home; Sometimes you find the house of your dreams without really looking.
But for many people trying to decide whether it is time to move to a bigger home or to downsize into a smaller one, whether it is a good time to move to Bozeman or whether it is time to take advantage of favorable interest rates, some market knowledge is imperative to making an informed decision.
To take a quick temperature of the market, I look at Median home sales price, Days on Market, Inventory and Asking price ratio to Sales Price.  There are lots more numbers out there but I find that watching these particular ones roll from month to month gives a pretty accurate picture of what to expect when listing a home for sale or looking to purchase a home.
Recent statistics about Gallatin County only –
Year to Date though September Single Family Median Sales Prices rose 6.3% over 2018.
(From 414K to 440K)
YTD through September Condo and Townhome Median Sales Price rose 8.5% over 2018
(From 295K to 320K)
YTD Days On Market (DOM) Single Family Home rose 6.9% over 2018 from 58 to 62 Days
YTD DOM Condo and Townhome is 53 days down from 64 days in 2018 or -17.2%
As one might expect, these DOM numbers are very different during the prime selling season of May – August where Single family homes sold in 37 Days and Condo/Townhomes sold in 36.
So one may ask how much negotiating of the prices is going on?  Not much as both Single Family and Condo/Townhome are getting 98.7% of their asking price and Higher!
As we head into winter, Single family home inventory has already decreased by 7.5% but Condo Townhome has increased by 31% due to new developments coming on line in Bozeman and Belgrade.
Typically the next few months see a slow down in sales, median price stabilization but also lower inventory.  After a very rapid fire summer in buying and selling, we are approaching a more balanced market but I would still expect that there is pent up demand because mortgage rates are still below 4% after being above 4% for a long time earlier this year and last year.  We are getting tight on inventory of Single Family homes.
My advice to Buyers and Sellers of Single Family homes would be for Sellers to take advantage of the low choice on the market and for Buyers to take advantage of a slower market and really low interest rates.  I am happy to discuss these statistics with you or dive in a little deeper.
Give me a call or send an email and let's time your best move!
It has been a seller's market for quite some time. Bozeman has an average of 5 people moving here per DAY!  So, while home prices are not anything like they are in major coastal cities, they are higher than many expect for close to downtown or view properties.
There are fixers and homes that could use some updating available for lower prices. For many people, these are great opportunities to gain equity quickly once the update work is complete.  The real caveat here is that Bozeman has an unemployment rate of less than 3% and there are simply not enough skilled tradespeople to do all the work in this booming economy and housing market.  A great remodel can be done but research, planning and patience are a must and maybe a few extra dollars than expected.
Montana is a non-disclosure state. There are only a few of these in the nation, but basically, what that means is that home selling prices are not made public.  So all the Zillow algorithms do not work well here, which may impact the accuracy of the Zestimate.  Real estate agents have very strict rules governing their disclosure of home selling prices and a buyer can only get the accurate selling prices of comparative homes they are shopping for by a licensed real estate agent.  Believe it or not, this has less to do with the real estate lobby than it does with the Montana sense of privacy and avoidance of governmental interference.
Moving to Bozeman Montana is a great decision. I do not know anybody who has moved here and after a bit of adjustment, including if it had to do with the surprise of remodel cost or difficulty in finding a home, who hasn't been happy with their decision.
These are the realities of reaching for your dream of moving to a place that has a vibrant community, downtown, culture, and outdoor scene.  Good news is that this can be navigated with a knowledgeable real estate agent.
As a local and invested real estate professional, I can help you find potential neighborhoods, advise you on pricing but also help you with referrals if you choose the build/remodel road.  I am also thrilled to share my family's experience in moving here, networking, meeting people and loving Bozeman and Montana.
We love a good happy hour, especially when the weather is not ideal for an afternoon hike or run.  Nice to get cozy in one of our Bozeman establishments with discounted food and drinks.  Our top five…
Barley and Vine.
Happy hour here starts at 4 and goes until 5:30 and then starts up again at 9 pm.  And even better, Happy hour is ALL DAY on Monday!  Barley and Vine offers $4 beers and $5 wine and discounted food.http://barleyvinemt.com/
Urban Kitchen.
Another Downtown eatery.  Happy hour here is 3-5 daily.  UK offers $4 cocktails and beer and $2 off glasses of wine and 1/2 off appetizers.  https://www.urbankitchenbozeman.com
Tanglewood. 
This fairly new restaurant is located in Ferguson Farms and they have just started up their Happy Hour program and its a good one!  It runs 5-6:30 in the Bar.  They offer 50% off 2 oz pours of wine which allows one to sample ALOT of their wines on tap!  They also offer $5 cocktails, $1 off beers ciders etc and yummy food starting at $4.  https://www.tanglewoodmt.com/
Montana Ale Works. 
Located on the East end of Main Downtown.  Ale Works' Happy Hours runs 4-6 pm and they offer $1 off well drinks, beers and wines as well as rotating food specials.  Ale Works always has a fun upbeat atmosphere.  https://www.montanaaleworks.com/
Copper Bar. 
One of the coziest bar/restaurants around.  Located on lower level space on Main Street.  Happy Hour runs 4-6 everyday and they offer $1 off everything brewed or distilled in Montana, $5 wine, $5 house whiskey drinks, and discounts on food.  They also offer a great burger special on Wednesdays – Burger and beer for $12 (PBR) or draft beer selection for $13.
While searching around for comments on moving to Montana, I found this article from Smart Asset.  https://smartasset.com/mortgage/15-things-to-know-before-moving-to-montana
I think the points in this article are accurate and reflect our experience of moving from Seattle to Bozeman in 2016.  Give it a read and feel free to contact me to discuss more in depth!
Montana is known for its natural beauty. You may have seen scenes shot in Montana if you saw the films "A River Runs Through It" or "The Horse Whisperer." Broad swathes of the Montana country is not just beautiful but empty. The state's population density is the third lowest in the country, behind Alaska and Wyoming. If that sounds like the perfect escape to you, here are 15 things to know before moving to Montana. 
1. You'll want to get out into nature.
Montanans tend to be an active bunch. Being an outdoor enthusiast is the norm here. Of course, many Montanans work outside, as ranchers, farmers or in the oil industry. But even those with office jobs jump at the chance to get outside for hiking, camping, fishing, hunting, canoeing and more.
2. Public universities are a good option here.
Montana State University (MSU) and the University of Montana are both well-regarded public institutes of higher education. If you have kids or you're thinking of going back to school yourself, it's good to know that the public options in Montana are a solid choice. If you're moving to Montana for an early retirement, you can take university classes by obtaining Lifelong Education Status at MSU.
3. Population density is low.
Did we mention Montana has a low population density? If you've never lived in a sparsely populated state before, you're in for a surprise. You can drive for long stretches on empty roads or settle down in a home that's miles from its nearest neighbor. Depending on your preferences, that may sound ideal to you.
4. Skiing and snowboarding reign supreme.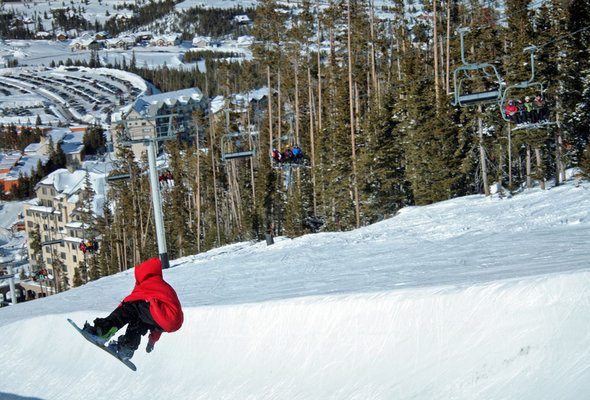 Winter sports are huge in Montana. The state boasts 15 ski areas and resorts, including the famous Big Sky Ski Resort, with 5,800 acres of ski-able land. The active Montana lifestyle doesn't stop during the winter months. The big divide isn't between skiers and snowboarders – it's between those take part in winter sports and those who don't.
5. Winters are freezing.
Montana winters are extremely cold and feature unpredictable temperature swings. Between November and March, Montana's temperature swings between 50 degrees above zero and 50 degrees below zero. If you're moving to Montana, it's important to dress for the weather and keep a winter survival kit in your car.
6. Montana is politically divided.
There's a big urban-rural divide in Montana and the divide shapes the state's politics. The state's three electoral college votes are solidly Republican, but Montana's senior U.S. senator is a Democrat. Like many states, Montana has more conservative rural areas surrounding liberal cities.
7. Ranching is alive and well.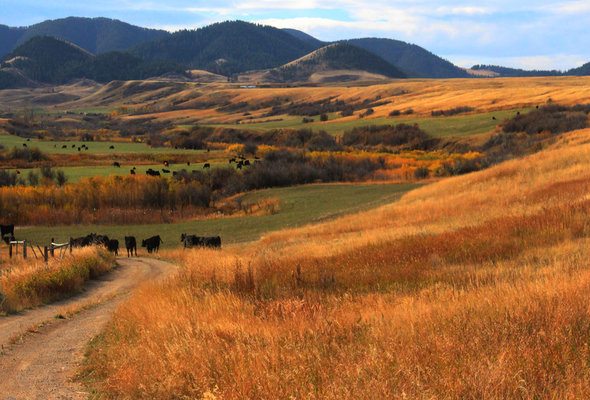 Montana has more cows than people. Agriculture contributes roughly $4 billion to Montana's economy and livestock makes up about half of that. If you're moving to Montana in search of the cowboy lifestyle, be aware that ranching is a tough business with slim margins. However, you'll be in good company if you decide to devote yourself to agriculture. According to the Montana Department of Agriculture, there are 28,008 farms and ranches across Montana.
8. Hunting and fishing are huge in Montana.
Even those who don't work in agriculture may source some of their food outdoors, in many cases from hunting and fishing. Both are popular activities in Montana, where gun ownership and appreciation of the outdoors are strong cultural values. If you're considering getting into hunting and fishing, be sure to obtain the proper licenses and store your firearms safely.
9. You'll probably want a car with four-wheel drive.
Montana's tough winters and chewed-up rural roads make a four-wheel drive more of a necessity than a luxury. You don't want a car that will slide off the road during a blizzard or get stuck in your driveway when you're running late for work. Whether you buy or lease, look for a car that can handle Montana's winters.
Check out our cost of living calculator.
10. Housing is scarce.
It can be tough to find housing in Montana, which is why, if you're moving to Montana, it's a good idea to have at least a temporary rental lined up before you go. In many parts of the state, families and individuals struggle to find affordable housing. For example, according to the Big Sky Chamber of Commerce, about 83 percent of the workforce of the city commutes into Big Sky every day because they can't find affordable housing in the city.
11. Wildlife is a part of life.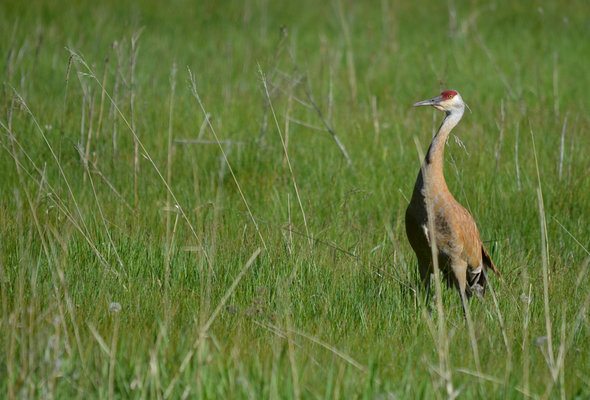 In Montana, run-ins with beautiful creatures like sandhill cranes (or dangerous creatures like rattlesnakes and bears) are par for the course. Managing the deer population is always an issue in Montana, too. If you're buying a home with a garden, you may need to take steps to protect it from local wildlife.
12. It can take a while for trends to make their way to Montana.
That hot new ingredient the hip restaurants in New York, Chicago or San Francisco are pushing might not trickle over to Montana for a couple of years. The same goes for fashion trends, in part because practical, weather-appropriate clothing is more of a priority for Montanans. If you're used to a lot of the amenities of big-city living and staying on top of trends is important to you, moving to Montana may require an attitude adjustment.
Related Article: The Cost of Living in Montana
13. Craft beer – including home brewing – is big in Montana.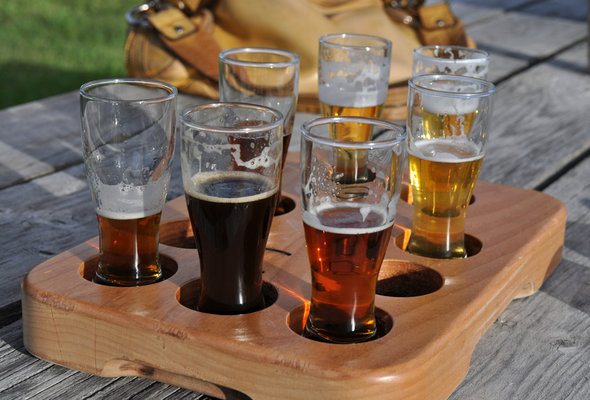 Like many Western states, Montana boasts a big craft brewing scene. According to the Montana Brewers Association (MBA), there are 53 licensed breweries in the state. The MBA says that the state's breweries "employ more than 500 employees and have an economic impact of over $60,000,000 annually." Home brewing is big, too, and kits are available throughout the state.
14. People are friendly.
Montanans wave to people they pass on the state's country roads and chat with strangers in cafes and diners. If you're moving to Montana from, say, the Northeast, you might be surprised by how warm and friendly the people are.
15. It's wise to be self-sufficient in Montana.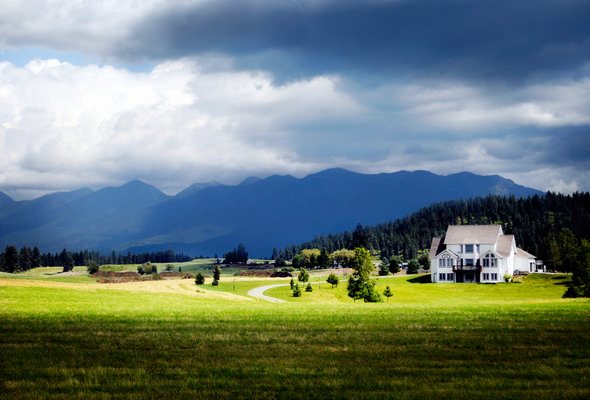 In Montana, particularly in rural areas, you might run into problems like a power outage after a storm or a car battery failure in freezing temperatures. It's important to have basic survival supplies in your home and car (but you don't have to go full-on doomsday prepper). But Montanans also rely on their neighbors, so don't be surprised if you get on a knock on your door asking for help.
The past few posts have been on What to do with out of town visitors – one may ask why we haven't hiked and gotten into our beautiful wilderness.  The reason is that my Mom is wheelchair bound so we had to think of things to do where she could enjoy the outdoors in an accessible way.
So this weekend we went to Jackson WY and explored the Teton National Park and town of Jackson.  We were blessed with beautiful, actually stunning, weather.  We drove over through Ennis, trying to avoid the Friday construction and traffic going through Gallatin Gateway and Big Sky.  Nice drive, about 4. 5 hours – stopped in Ennis at Willie's to pick up some product.  We purchased a very smooth vodka and Rye whiskey and some of that delicious coffee drink.  They do tastings and tours – very neat place.  https://www.williesdistillery.com/
We checked into our condo rental at Snow king which is close to town but has some nice views.  We had to be picky about the accomodation as we needed one level with elevator – difficult to find in a ski town!  Friday evening we enjoyed a fine (if pricey) dinner at Snake River Grill.  Highly recommend – nice service, good food and beautiful dining room.  https://www.snakerivergrill.com/
Saturday, we were up early and after a quick breakfast drove to the Teton National Park.  We stopped at the visitor center where the helpful guide recommended a good route with wheelchair.  Honestly, one picture is just better than the next in this park – scenery is just stunning.  We visited the Mormon row, Jenny Lake and then on the way out stopped at the National Museum of Wild life Art which was a nice way to top off that portion of the day.  https://www.wildlifeart.org/
Saturday afternoon after lunch at Merry Piglets https://merrypiglets.com/ . we shopped around the Town Square.  Very fun shopping there and lots of nice art galleries.
Sunday, we decided to go home through the parks so drove the length of Teton National Park as well as Yellowstone.  If  you have the time, it is not summer and the roads are open, I would recommend this route to get back to Bozeman.  Just an incredible display of geological diversity.  We didn't see a ton of wildlife on this trip but still had plenty to look at!
Have you ever wondered whats behind the large walls of the Grizzly encounter, located between off i-90 on the way to Livingston?  We checked it out this week and enjoyed our encounter with Bella the bear, at a safe distance.  The Grizzly encounter is a rescue operation for grizzlies – most have been abandoned for some reason by their mothers.  The Encounter currently has 3 adults and 1 cub but only one at a time is visible to visitors.  In the viewing area, there is an education staff person who will tell all you've ever wanted to know about grizzlies. The Grizzly Encounter is definitely worth a stop sometime!  http://grizzlyencounter.org/
After our time out there we came back to Bozeman, had a nice lunch at Fire on Main https://www.firepizzabozeman.com/ and then shopped around.  Our guests enjoyed the unique Tees at Intrigue Ink and Montana Scene. https://intrigue.ink/  https://www.themontanascene.com/ We also wandered around the art galleries and enjoyed the western art at Old Main Art Gallery, A.Banks Gallery, and Montana Trails Gallery.  Our guest picked up a few souvenirs at the Altitude Gallery.  https://www.abanksgallery.com/ ,  https://oldmaingallery.com/ , https://altitudegallerybozeman.com/ , https://www.montanatrails.com/ .
We get a lot of out of town visitors that are completely enamored of the West, our scenery and lifestyle.  Yesterday, I took my mother and sister to Yellowstone and we did the northern loop.
Started off with the beautiful drive through Paradise Valley.  In Gardiner, we stopped at the Yellowstone Forever store to pick up a map, find out conditions in the park and pick up a souvenir.
Our destination was the Canyon and Falls.  We took the Tower road and went over Dunraven pass.  There was snow tipping the mountains but roads were clear  – an absolutely stunning drive with the blue sky!  The Falls and Canyon did not disappoint and it was so nice to enjoy it with just a few fall visitors instead of the tourist crowds of summer.
Next we headed back up towards Mammoth Springs.  That is such an interesting geological site and we enjoyed learned about it as we walked while checking our guide book.
Next, we went up Sage Lodge where we enjoyed a great happy hour menu, drinks and more beautiful views.
All in all, a great tourist day, good for visitors and locals alike!
#Bozeman #Montana #Bozemanhomes